Wendy Edwards
ArtfixDaily.com: Bell Gallery at Brown University Presents "Luscious: Paintings and Drawings by Wendy Edwards"

David Winton Bell Gallery
Brown University
64 College St Providence, RI
November 16 – March 15, 2020
Wendy Edwards
AXxoN N.: A Collective Commentary on David Lynch's Inland Empire

Essex Flowers
19 Monroe Street
New York, NY
February 10 – March 10, 2019
Ice News
Kate Collyer
Anna Davidson
Fritz Horstman
Greg Lock
Aly Ogasian
Claudia O'Steen
Maya Weeks
Special Guest, Russell Potter
The Wurks Gallery
45 Acorn St. Providence, RI
December 15, 2018 - Jan 14, 2019
Andrea Sherrill Evans
Invasive
Oct 19 – Nov 18, 2018
Common Ground Gallery
Rockville, Maryland
Judith Belzer
Way Bay
Berkeley Art Museum (BAMPFA),
Berkeley, California
January 17th-May 6th 2018


Contraption
Contemporary Jewish Museum (CJM), San Francisco
February 22 - July 29, 2018

Wendy Edwards/Jerry Mischak
September 28 - November 11, 2017
Mystical Museum of Art
15 Water Street, Mystic, CT 06355
Linda Nagaoka
Sculpture Show
LES Gallery
May 6 - 25, 2017
@ The Clemente
107 Suffolk Street
New York, NY 10002
Matthew F Fisher
Observable Universe
January 18 - February 22, 2017
Taymour Grahne Gallery
Eva Lundsager
Other Night Other Light
July 13 - August 26
Opening Reception: July 13, 6-8PM
Van Doren Waxter, New York, NY
Interiors
Dorchester Art Project
April 14 - May 21, 2016
Curated by Eric Stephanski
Maureen Cavanaugh
Sean Downey
Robin Dulzen
Michelle Grabner
Angelina Gualdoni
Maura O'Donnell
Kathleen O'Hara
Allison Reimus
Meg Alexander
Field to Flower
5th Business Projects Gallery
The Mill
2174 Maxham Meadow Way
Woodstock, VT 05091
Through March 13, 2016
Wendy Edwards
Faculty Exhibition David Winton Bell Gallery, Brown University
Providence, RI

Nov 7 - Dec 21, 2015
Opening Reception:
Nov 6, 5:30 pm
Amze Emmons
Solo Stuff-

The Uninhabitable
Franklin and Marshall College
Philips Museum of Art
Lancaster, PA
Opening Reception: September 10th, 5pm
September - December
Mural Project
Presented by Elixr Coffee
And co-sponsored by The Print Center
Elixr Center City
Philadelphia, PA
-There will be a supplemental poster available, printed at the Borowsky Center at Uarts.
Opening Reception: September 5th
September - December
Amze Emmons: Recent Work
Do Design
Barcelona, Spain
November
Two Person Stuff-

Amze Emmons: Index/Codex
James Hannaham: The Revelation of the Self-Evident
490 Altlantic
Brooklyn, NY
Opening Reception: September 12th
September
Sophia Narrett
New American Paintings
MFA Issue 117 Curated by Anna Stothart
April 2015/May 2015
Artist in Residence
Atlantic Center for the Arts New Smyrna Beach, FL
Master Artist Inka Essenhigh
May 18, 2015 - June 7, 2015
Solo Exhibition
This Meant Nothing
May 30, 2015 - June 28, 2015
Opening Reception: Saturday May 30, 7-10pm
Lux Art Institute, Encinitas, CA
Artist in Residence January 12, 2016 - February 21, 2016
Solo Exhibition January 16, 2016 - March 12, 2016
Carl D'Alvia
Fertility
March 15 - April 26, 2015
33 Orchard
Transcendent Landscapes reviewed in the Boston Globe
Artists who inflect natural scenes with heated palettes or stylized forms, such as John Marin and Milton Avery, describe much more than a seascape. Transcendent Landscapes, a lovely morsel of a show at Drive-By Projects, looks at some contemporary artists who use landscape as a launching pad for something else. Read more
Robert Otto Epstein
Thread Lines
The Drawing Center
September 19 - December 14, 2014
This group exhibition features sixteen artists who engage in sewing, knitting, and weaving to create a wide-range of works that activate the expressive and conceptual potential of line and illuminate affinities between the mediums of textile and drawing. Multi-generational in scope, Thread Lines brings together those pioneers who—challenging entrenched modernist hierarchies—first unraveled the distinction between textile and art with a new wave of contemporary practitioners who have inherited and expanded upon their groundbreaking gestures.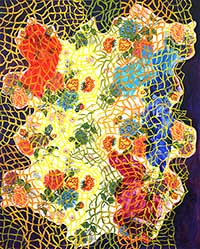 Wendy Edwards in Enticing Luminosity
Enticing Luminosity
Curated by Olive Ayhens
Lesley Heller Workspace
March 16 - April 20, 2014
Gallery 2: Enticing Luminosity: curated by Olive Ayhens, presents thirteen artists who have a passion for, and are inspired by, the use of light. The artists selected reference fashion, current events, and architecture and work in a broad range of mediums including: sculpture, painting, video, and installation.
Upcoming Events featuring Amze Emmons
Publisher! Publisher!
NEIU Fine Art Gallery
North Eastern Illinois University
June 9th - July 25th
Opening Reception: Friday, June 13th, 6-9 PM
Multiply & Conquer
Root Division
San Francisco, CA
March 2014
Space Squared
White Walls Gallery
San Francisco, CA
May 2014
Place Value: place as inspiration show reviewed in The Boston Globe
The show curated by Meg Alexander is on display in the Cornelius Ayer Wood Gallery at Middlesex School until May 3rd.
Nearly Neutral
Nearly Neutral, a group show featuring works by Dawn Clements and Ryan Mrozowski, and curated by John O'Connor, is on view at The Barbara Walters Gallery at Sarah Lawrence College in Bronxville, NY